WEAPONIZATION OF AID, INTERFERENCE AND CORRUPTION
SYRIAN REGIME'S METHODS OF CONTROL OF HUMANITARIAN SECTOR
Executive Summary
The Syrian regime's weaponisation of the humanitarian aid that the overwhelming majority of Syrians depend on has been thoroughly documented in the last 10 years. International forums have presented ample evidence that the Assad regime has deliberately starved opposition-held areas, blackmailed United Nations (UN) agencies, appropriated aid for the military and militias, used aid to advance its military strategy, propped up its war economy with aid funds, and employed various other tactics that involve using humanitarian aid agencies to further its goals.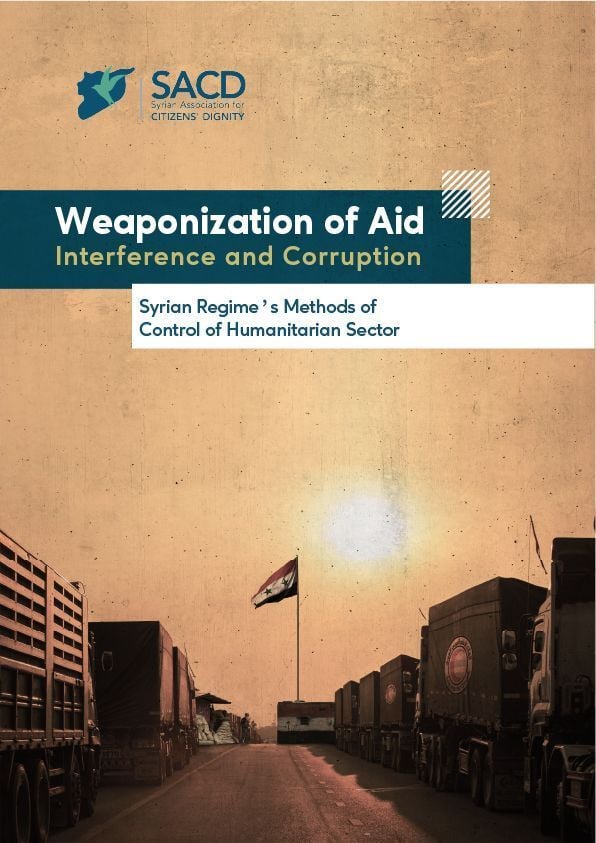 Most notably, the regime manipulated the delivery of humanitarian aid to force opposition-held areas into submission through the notorious "reconciliation agreements" with the help of its Russian and Iranian allies. Russian carpet bombing of civilian areas intensified and besieged areas were starved; desperate civilians were offered humanitarian aid if they submitted to the regime and accepted "reconciliation". According to Mouayad Albouni and Maxwell Gardiner of the Centre for Operational Analysis and Research, and the former US Special Envoy for Syria, James Jeffrey :
The stark nature of the Syrian regime's chokehold on humanitarian aid delivery is a central focus of discussions on delivering cross-border aid to millions of displaced Syrians in the North at the UN Security Council (UNSC), most recently in July 2021. Russia has used its veto power to hold the UNSC to ransom and force them into systematically reducing the number of crossings through which aid is delivered to some 4 million Syrians crammed into Idlib. It insists that the aid is delivered through Damascus to give the regime complete control over the flow of humanitarian aid, with the aim of forcing the last opposition-held enclave in the northwest of the country into submission, while increasing its profits from the associated corruption and appropriation of aid distribution.
This report examines the mechanics of the methods the Syrian regime uses to control and direct the work of humanitarian aid agencies, including the UN and other international aid organisations, as well as myriad Syrian organisations that are often directly established by the regime's institutions or proxies. It is based on interviews with 45 employees of 29 organisations operating in Assad-held Syria. Mostly Syrians and several internationals, these individuals work in international aid organisations, UN agencies, and Syrian humanitarian and civil society organisations (CSOs). In most cases, their motive for participating in the study was to change the status quo in which the Syrian regime either directly or indirectly, but always decisively, interferes in the work of these organisations, making them yet another weapon in its arsenal directed against the Syrian people.
Regime interference ranges from directly influencing the aid distribution, deciding who will (and who will not) be the beneficiaries of various projects; to appointing people close to the regime to crucial positions of influence in these organisations to control and monitor their work; to directly appropriating aid to the regime's military and militias, sometimes in larger percentages than what reaches the intended beneficiaries. The acceptance of such interference permeates all aid organisations, international and Syrian; there is now a dangerous symbiosis between these organisations and the regime's institutions. Finally, most of the participants firmly believe that the Syrian regime is itself involved in creating many CSOs that later appear in political negotiations as representatives of "independent" civil society.
These findings must inform the policies of the largest donors of humanitarian aid to Syria, primarily the US and the European Union. There must be an independent, objective audit of how their funds are being used by the UN agencies and international and Syrian organisations working on the ground to prevent aid manipulation and interference by the Syrian regime in furtherance of its repressive, criminal agenda. These findings must inform discussions on how to end Russia's blackmail in the UNSC regarding cross-border aid and adopt alternative approaches to ensure that aid is deliver legally to the people without UNSC approval or regime interference. A comprehensive review of the policies and practises of UN agencies involved in humanitarian aid distribution in Syria is needed before any plans are developed for the organised, safe, voluntary and dignified return of displaced Syrians following a comprehensive political solution with robust international guarantees. It is necessary to ensure humanitarian operations are conducted in line with the humanitarian principles and work that goes beyond life-saving aid is in line with the 2018 UN Principles and Parameters for UN assistance across Syria. Increased monitoring of implementation is needed and cannot come too soon. This would urgently require an increased focus on the ongoing regional dialogue to ensure donor red-lines and basic operational standards are respected by UN agencies operating inside Syria, especially in regime-controlled areas. Furthermore, in their discussions, the UN Country Team and donors should take seriously evidence and recommendations from external stakeholders, such as the information contained in this report.
The policies and practices described in this report, and the Syrian regime's weaponisation of aid and capture of civil society, must not be normalised if there is to be hope of any long-term solution and stability. Ultimately, there must be accountability for corruption and using aid funds to finance the Syrian regime's war economy. This report is designed to contribute to such policy changes.
Key Findings
Four-fifths (81 per cent) of interviewees confirmed that, based on their observations and direct involvement, the Syrian regime directly interferes in their organisation's work, mainly in the following ways:
 Determining who benefits from these organisations (and who does not)
Appointing directors and managers, and hiring employees
Directing help and benefits to military and security agencies and personnel
Over three-quarters (77 per cent) of study participants identified "governmental agencies overseeing the organisation's work" as the main source of interference. More than a quarter (27 per cent) of participants indicated that unofficial military parties (militias) have directly interfered in their work, while 23 per cent cited direct interference from official military structures.
The vast majority of participants indicated that they always accept any regime interference; only 19 per cent said they used to refuse it. Refusing direct or indirect instructions from the regime can result in harsh consequences ranging from revoking an organisation's permits to cancelling projects or losing jobs. Nearly all participants (95 per cent) accept regime interference due to fears of losing their jobs; 38 per cent are afraid of detentions or harassment, while 19 per cent fear direct threats against them.
Approximately 58 per cent of survey participants describe corruption levels within humanitarian and aid organisations (international and local) operating in regime-controlled areas as ranging from medium to very high; the remaining 42 per cent report low or very low levels.
International aid organisations and UN agencies are mostly forced to accept certain levels of corruption in order to continue operating and avoid persecution by the regime. Most local organisations are founded by individuals close to the regime as a means of obtaining funds, mainly through partnering with international organisations, with such partnerships closely supervised by the regime.
Approximately 44 per cent of participants believe that more than 25 per cent of the humanitarian aid targeted to regime-controlled areas is diverted to the military and militias; 16 per cent of participants reported it was even higher—50–75 per cent of the aid.
Relatives of regime-linked figures and those associated with the regime are appointed to most aid organisations to monitor and report to the regime and the parties that secured their employment about the activities of the organisations and their workers.
Nearly two-thirds (62 per cent) of those interviewed believe the Syrian regime has had a hand in establishing numerous CSOs in order to use them as an "independent" front to represent the civil society in the political track.
International and UN agencies have a crucial role to play in Syria in association with local humanitarian and aid organisations, but the regime has a tight grip on their access and operations.
The vast majority of international organisations strive to play a positive role in regime-controlled areas, but are subject to extortion and are forced to accept certain levels of corruption and favouritism in order to continue operating.
Local organisations exhibit a much higher level of corruption than international and UN organisations; the government uses them as intermediaries to access funds and control project delivery and beneficiaries.
Employment is the key practice through which control is exercised: by appointing managers and workers, the regime can monitor and control the organisations' operations and spy on their employees.
Humanitarian and aid organisations are under regime control from their inception: the entire cycle is fully controlled and monitored.
Beneficiaries of the aid and projects delivered by these organisations are determined in a discriminatory way based on political affiliation and sectarian considerations.
Some of the aid and services delivered by international and UN organisations directly or through their local partners is diverted to the regime's military branch and sectarian militias.
The regime views aid organisations operating in regime-controlled areas as instruments with which to advance its policies and practices.
The SARC should be considered a local organisation that is heavily controlled by the Syrian regime and executes orders from security branches.
A high percentage of CSOs in regime-held areas are used as fronts: theoretically they represent civil society in the political track but in practice they are conveying the regime's agenda.
Recommendations
International donors, especially the European Union and the United States, must:
Heavily scrutinise the vetting process for any humanitarian or CSO operating in Syria, including UN and international organisations, but especially local ones.
Carry out a transparent and professional audit of the aid organisations they fund to work in areas controlled by the regime, including their hiring practices, as well as policies and practices that may have led to discrimination of beneficiaries and appropriation of aid by the regime.