Safe Environment Before Everything Else
WHY ELECTIONS IN SYRIA ARE ILLEGITIMATE WITHOUT POLITICAL SOLUTION
Safe environment is an essential cornerstone of any political solution for the future of Syria and an indispensable prerequisite for fair, legitimate and inclusive elections, as well as any popular referendum on a future constitution, states the latest briefing by the Syrian Association for Citizens' Dignity (SACD).
This paper discusses the views of displaced Syrians (including internally displaced persons (IDPs), refugees, and diaspora) about the obstacles that need to be overcome for any future elections––which would follow a meaningful political agreement with strong international guarantees––to be seen as credible by the displaced Syrians. It also outlines some of the minimum conditions that need to be fulfilled in order for free and fair elections to be considered possible.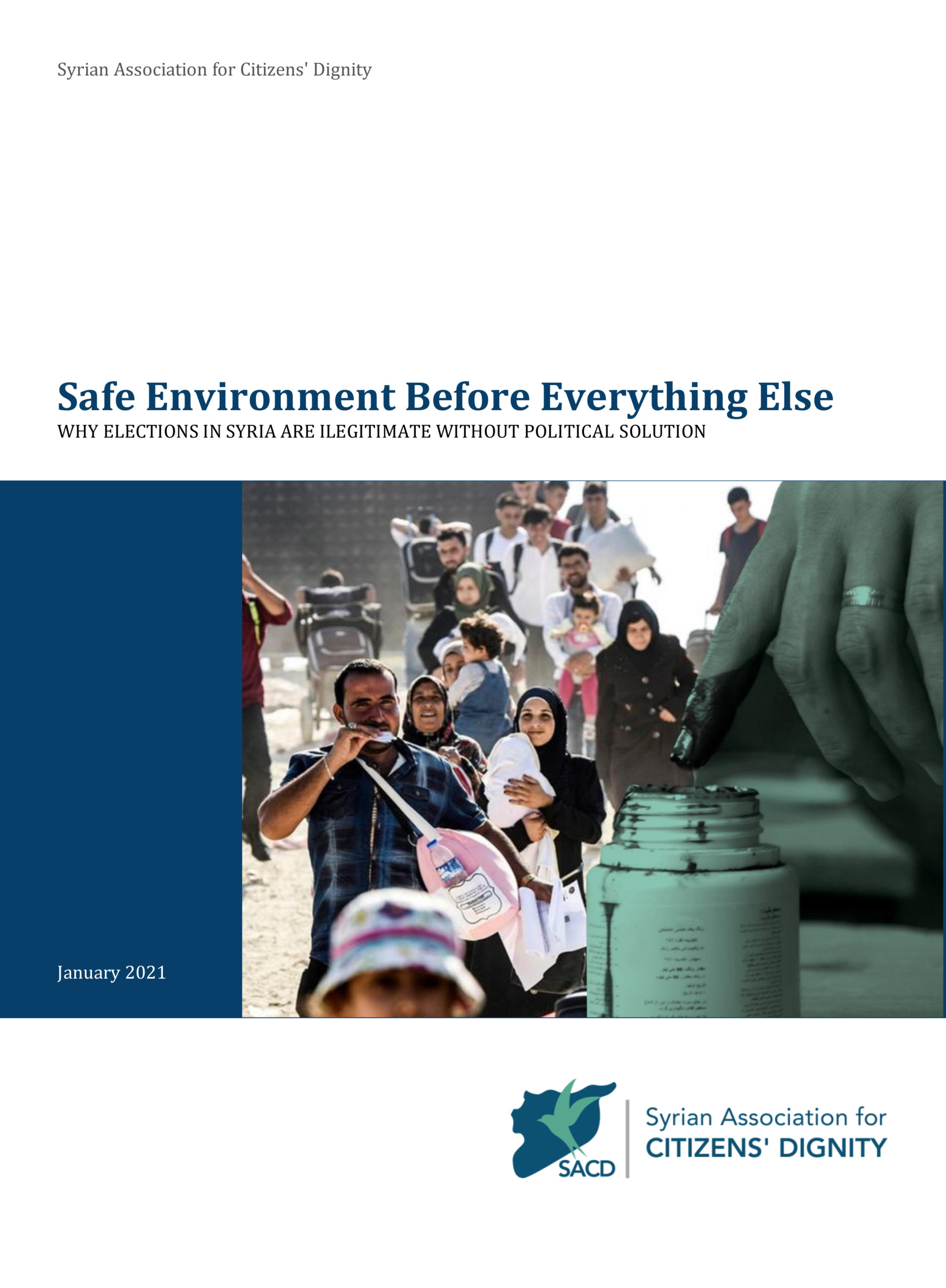 "It is clear that the current political process is not addressing the key issues that are the priority to the millions of displaced Syrians who make up the majority of the population. We must have the international community accept that the issue of safe environment for all Syrians must be dealt with in order for anything else, including the elections, to have any real chance of happening," said Hala Alghawi, a SACD trustee.
The briefing clearly demonstrates that holding elections without addressing the issue of safe environment in a comprehensive political agreement with international guarantees would irreparably damage the credibility of the international community and lead to more violence and instability.
"To be clear, this paper is not about Assad's sham elections. That is irrelevant to the displaced Syrians. This paper aims to show what a mountain there is to climb by the actors driving the political process to get to a point where elections can even be discussed. For that to happen, the whole political process must be redrawn, with the right of safe and dignified return for 13 million displaced and the safe environment for all Syrians put at the top of the agenda," said Homad Homad, a SACD trustee.
The SACD briefing uses the example of elections to illustrate this key point and details several insurmountable obstacles for the displaced Syrians to accept elections as possible and credible in the current circumstances. They include constitutional provisions that prohibit displaced Syrians from running for office, legal and logistical impediments that prevent a large majority of them from voting, and most significantly the absence of a safe environment in which people can stand for office or vote free of threat, intimidation and harassment. Notably, 97.2 per cent of participants in the survey conducted for this paper between September and December 2020 reported that elections will not be seen as fair and free unless the electoral process guarantees displaced people's rights to vote, and to run for office.
The briefing incorporates the results of a survey of approximately 500 displaced Syrians—IDPs and refugees in Turkey, Lebanon and Europe.  They also draw on previous SACD reports, three months of empirical data gathering from regime-held areas for an upcoming report, a public opinion survey of refugees and IDPs regarding elections, and continuous engagement with displaced communities. The paper also reflects the opinions of some Syrian and non-Syrian experts on post-conflict and transitional elections in the midst of massive population displacement and systematic violations of human rights.
Read the full briefing here:
Show the survey results here: