Denmark's decision to withdraw protection from Syrian refugees from Damascus and its countryside on the basis of the assessment that it is safe for them to return has placed the country in a unique position globally. To date, no governments have formally concluded that Syria is safe for the purposes of removing protection for individuals on a large scale. This has yet to occur in the region, even among Syrian Regime's allies like Lebanon, and runs counter to the shared EU positions documented in the recent BC5 readout and FM statements and an explicit position of the European Commission's Directorate General for Civil Protection and Humanitarian Aid Operations (ECHO). In a message to SACD, a senior official from ECHO explicitly states that "The EU has repeatedly stressed that any refugee return to Syria must be voluntary, safe, dignified and sustainable, and in accordance with international law, including the principle of non-refoulement. The EU's line with respect to return of refugees has not changed. Returnees continue to face numerous obstacles and threats such as forced conscription, indiscriminate detention, forced disappearances, torture, physical and sexual violence, among others."
However, the government's decision enjoys an overwhelming support in the Danish Parliament, which allows it to renege on its own commitments to human rights, the official EU position and the decisions of the European Court of Justice, while openly ignoring the reports of the likes of UN Commission on Syria, Amnesty International and Human Rights Watch. And while the political debate on the issue in Denmark is not sufficiently potent to change the course of the government actions, Syrians who found themselves targeted by the policy are being forced into detention centers, their lives destroyed, families separated, placed under pressure to return.
One such case is that of Mr. Abdel-Raouf Ahmed, who is currently residing in the refugee deportation center in Denmark, who agreed to talks to us about the conditions surrounding him and other Syrian refugees in the deportation centers.
* What is the reason that made you flee from Syria and why don't you want to return?
My name is Abdel Raouf Ahmed, from Al-Midan neighborhood in Damascus. I used to live in the countryside of Damascus when one of the regime's shells fell on my house. I was seriously injured and these shells completely destroyed my house. After my recovery, I left Damascus at the beginning of 2014 and then traveled to many countries. My journey took about seven months until I arrived in Denmark.
I spent my journey in agony and hardship, in the desert and in the sea. I spent seven nights in a 'death' boats, where it was hard to go back to Syria. I said in [Danish] court that I would rather die in Denmark than go back to Syria, and that I was prepared to live in a tent and die there rather than going back to Syria.
* If you are forced to return to Syria, what do you think will be your fate?
Return is impossible for someone like me who opposes the murderous regime that destroyed humans, stones and trees. This criminal regime annihilated the people with chemical weapons and did not show any mercy to women and children. What Bashar Al-Assad did to us hasn't been done by any president or criminal. This dictator killed and displaced millions and he literally said that "they took over Syria when its population was 7 million and they have no problem to return it to what it was". We do not recognize him as a president, but as a mere puppet controlled by his allies, and this is what prompted us to seek refuge in Denmark as an oppressed war refugee, not as a tourist.
* Why did you choose to seek refuge in Denmark?
Because it is one of the countries that is very candid about human rights and even animal rights, so I told myself that this country will understand our pain and will give us our rights that were stolen from us. Instead of supporting us and standing by our side, they [want us to leave]. Yet since they never wanted to welcome us from the beginning, why did they open their doors in to us? All Syrians in the rest of the European countries were granted citizenship or permanent residency, but I am in my eighth year in Denmark and unable to renew my residency.
* How many people are in the deportation centers?
There are between 300 or 500 people.
* Are all of them holding Syrian citizenship? Or from Damascus and its countryside only?
No, not all of them are Syrians. There are people from different countries such as Iranians, Iraqis, Palestinians, Lebanese, Palestinian-Syrians, Eritreans and Afghans.
* Were the problems or criminal cases the reasons behind the deportation?
The Syrians do not have any [criminal] cases, but they are being deported as part of the [authorities'] claim that Damascus is a safe city. The rest of the nationalities do have cases, and the deportation is due to their misbehavior and some of them even have (high?) sentences.
*Has anyone been forcibly deported?
No, there is no forced deportation, but every 14 days they give you one or two days as an opportunity to visit your relatives, which means they give you an opportunity to escape from the camp. It is strictly forbidden to sleep outside the camp, except for these two days that the administration gives you. If you got late or slept outside the camp, you will be imprisoned for up to 4 months. You are required to make a daily fingerprint.
* Were there cases of people who left Denmark after their protection was withdrawn? And where did they go?
Yes, before I came to the Camp, there were about 180 people who fled to Britain, Belgium, Germany, Holland and Sweden hoping to obtain residence.
* Do the countries to which people who were not granted residence in Denmark have fled to contact Danish officials? And what will the Danish officials respond to them?
Yes, they inquire about their situation, so the government tells them that we have not closed their files yet. Then the Danish government asks those countries to return them to complete studying their status. It takes them and puts them in a deportation camp. The last of them was a young woman from Damascus, a university student who was deported 20 days ago although the government granted asylum to her brothers for political reasons.
* How many people have won appeals?
Depending on the cases, i.e. closer to temperament. In some families, the [Danish authorities] granted residence permits to the father and mother and refused to grant it to the children.
* Is protection withdrawn from individuals or entire families? Are there families got separated and some of their members were forced to move to deportation centers?
When my son turned 18, they asked him to make a fingerprint to obtain residency as a political refugee. On the same day, my request to renew my residency was rejected. They separated me from my only son in this country and split my family. Financial assistance was cut off me since last May, and now my son and brother help me financially. Also, my friend's request for his residence was rejected after he reunited his family, forcing his wife and son to go to Belgium and request asylum there. They were granted asylum because they did not give their fingerprint in Denmark, but he is still fighting for his residency and he lives illegally, and assistance has been cut off him as well.
* How are the living conditions in the center?
They serve three meals a day, breakfast at eight in the morning, lunch at twelve and a half, and dinner at five thirty. They serve traditional Danish food, but I can't eat it, so I eat [Syrian] canned food such as makdous and Za'atar. In addition to beans and chickpeas. I only eat one meal a day due to the lack of appetite because of this tragic situation.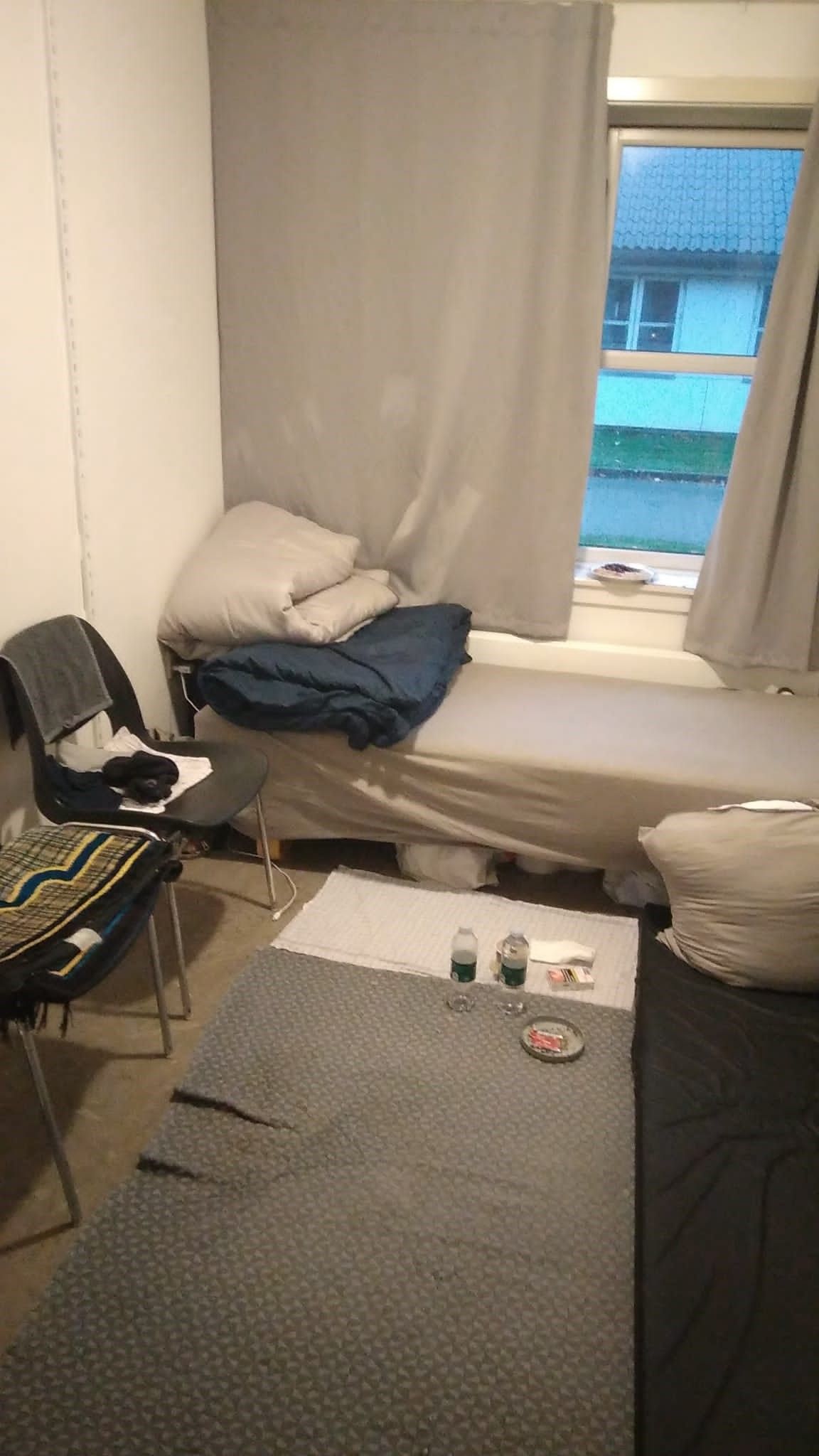 * Do you have a separate room in the shelter center?
I live in a room measuring two by three meters, containing a bed, a wardrobe and a small table.
* Where is your family and what harm happened to you after the protection was withdrawn?
I submitted family unification papers for my wife, son and two daughters. My daughters are married, but their husbands are missing. We do not know if they are alive or dead. After a while my wife was killed by a shell. My daughters refused to leave Syria until they know the fate of their husbands; they have children too. I only reunited with my son, who is now living alone after my application to renew my residency was rejected.
* Do you have any other place to go to if you cannot live in these centers?
I do not have anywhere else I can go to. If I decide to go to any European country, they will send me back to Denmark because of the fingerprint. Many people have tried to seek asylum and have been returned and arrested. I am an old man and I have many diseases. I arrived in Denmark when I was fifty-two years old. Now I'm sixty years old, and I have no more endurance, so you feel that you are in prison here. The room's door got opened by special devices. If you want to leave, you have to give your card to the police and immigration, and upon your return as well.
* Do you have any health problems? Is there a health follow-up within these centers?
I suffer from a disc protrusion in three vertebrae and an injury in my abdomen that led to the removal of parts of the small and large intestine, in addition to a cut of the inferior vena cava. I am a kidney patient, and I have had a kidney transplant. I have had 5 operations in Denmark. I have been banned from working and studying since I entered Denmark because of my poor health condition. I have recently been suffering from severe pain that prevents me sometimes from standing. The only treatment that is given to me [here] is strong painkillers that make me bedridden for several days
* Why do you think that the Danish government withdrew protection from you and other refugees?
I think it is a game of politics i.e. an electoral propaganda for candidates and promises to the people to ease the burden of refugees, especially Syrians, who unfortunately have become a game in everyone's hands, even though the total number of refugees does not exceed 33,000. They are all productive among them are shops and companies owners, school students and university students. There are no rioters or criminals among them. They are [peaceful] and productive and only want a quiet and safe life. We did nothing wrong to deserve this treatment and this prison in which we were placed with criminals and bad guys.